Mini-camping at the coast in Zeeland
Rates camping 2023
| | |
| --- | --- |
| Camping | Rate |
| Caravan / tent, per night | € 5,50 |
| Camper / bus, per night | € 5,50 |
| 1st Car | free |
| Per person per night | € 6,50 |
| Children under 1 year | free |
| Power, per night | € 5,00 |
| Shower, a time | € 0,50 |
| Tourist tax, p.p.p.n. | € 1,60 |
| Surcharge field 2, per night | € 5,00 |
| | |
| --- | --- |
| Additional | Rate |
| Extra car, per night | € 4,00 |
| Hot water, per 10 liters | € 0,20 |
| Freezing cores, per night | € 1,50 |
| Charging station for electric car available! | |
| | |
| Pets (on request) | Rate |
| Dog, per night only Field 2 | € 4,00 |
| | |
| Visitors (first report) | Rate |
| Per person per night | € 8,10 |
| or daily | € 3,00 |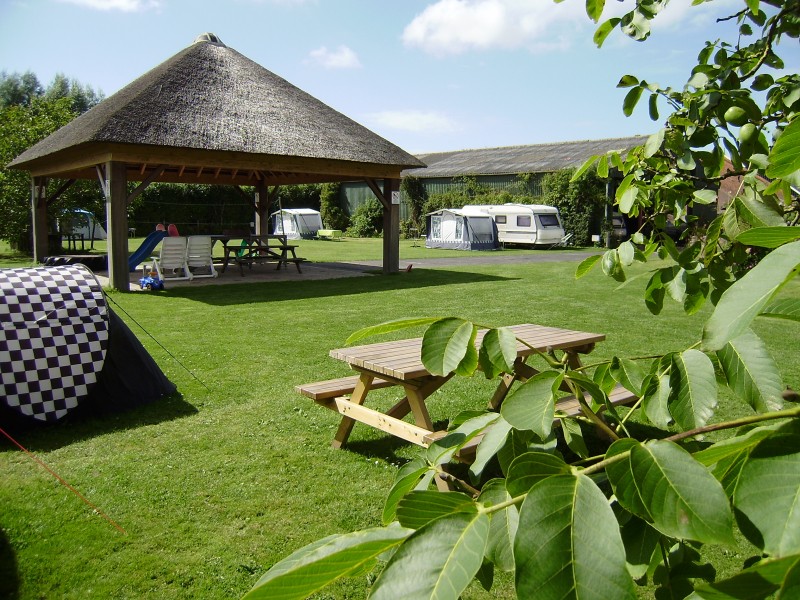 Minicamping Field 1 | Cozy field
This camping field lies behind the farm and has 10 spacious pitches and some pitches for igloo tents.This beautiful camping field is enclosed by a windbreak that provides shelter. When the sun appears, the morning chill is soon driven out.
There are various walnut trees on the camping, and one side is planted with hazelnut trees. The tents/caravans are positioned in a circle around the communal field. This is a very cosy, fun, warm place to camp for families with children, surfers and couples
Facilities field 1
Sanitary facilities
Brand new heated toilet block with showers, toilets, sinks and separate laundry rooms
Dump for chemical toilet
Taps for drinking water
Laundry for surfing and diving suits
wash vegetables
Facilities
Separate waste collection
Free WiFi (Wireless Internet)
Digitenne reception possible
Pets not allowed
Electricity 4-6 Amp.
Car-free area
Large parking
Camera surveillance
Places min. 125 m2
3 km. of North Sea beach!
Breadservice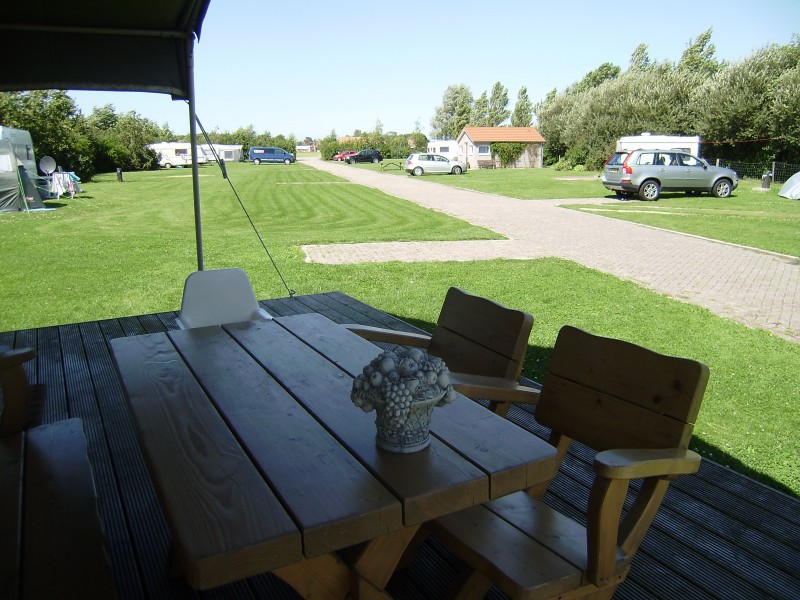 Minicamping Field 2 | Gigantic pitches averaging 370m²

If you are looking for a site with a fantastic view, you are at the right place. You experience beautiful evenings when the setting sun colours the sky. This field is equipped with new modern sanitary facilities.
The spacious areas and the drive allow you to access the camping with great ease.
Facilities Field 2
Sanitary facilities
Places of 370 m²
Disposal facilities for chemical toilet
2 showers
3 toilets
Washing up facilities
2 separate wash rooms
Surf laundry
Washing vegetables
Facilities
Own power connection 10 – 16 A
Own water tap point and own drain
Own parking space with own drive
Wifi (wireless internet), Digital antenna reception possible
Camera surveillance
Separated rubbish collection
Pets allowed after consultation
Breadservice
Rates Mini-Camping 2024
The rates below are per night for:
one pitch, 2 people, one camping equipment and one car.
This rate does not include electricity and tourist tax.
| | | |
| --- | --- | --- |
| Dates | Field 1 | Field 2 |
| 01-02 t/m 28-03 | 19,00 | 24,00 |
| 29-03 t/m 07-04 (Easter) | 21,00 | 26,00 |
| 08-04 t/m 18-04 | 19,00 | 24,00 |
| 19-04 t/m 05--05 (May holidays) | 21,00 | 26,00 |
| 06-05 t/m 08-05 | 19,00 | 24,00 |
| 09-05 t/m 20-05 (Ascension & Pentecost) | 21,00 | 26,00 |
| 21-05 t/m 26-06 | 19,00 | 24,00 |
| 27-06 t/m 31-08 (Season) | 21,00 | 26,00 |
| 01-09 t/m 15-11 | 19,00 | 24,00 |
Other rates:
| | |
| --- | --- |
| Persons over 2, p.p. (excl. tourist tax/children up to 2 years free) | € 6,50 |
| Electricity (price per night) | € 5,00 |
| Dog per night (max. 2 per pitch/more in consultation) | € 3,00 |
| Tax p.p.p.n. | € 1,64 |
| Extra tent per night (max. 5 m2) | € 5,50 |
| Extra second car per night | € 4,00 |
| Shower at a time | € 0,50 |
| Hot water (10 litres) | € 0,20 |
| Use of washing machine | € 5,00 |
| Use dryer | € 3,50 |
| Day visit per person (report first) | € 3,00 |